Visual Quest – 2015
Come meet your spiritual guides & helpers!
Visual Quest is an Art and Spirit Intensive with Pixie Lighthorse. She will guide you through her personal process of shamanic painting and point you toward your totems and helpers!
"This class is a convergence of everything I know about spirit and art all rolled into one. Creative living and spiritual practice represents all that's mysterious, alive and juicy in every one of us. I've been painting for twenty-three years, and I've watched my practice become more reflective of my deep Self, and less of my 'ideas' about what would make a good painting. This freeing process is release, it's color and spirit in motion, it's a deep embrace of What Is, and an intentional honoring of life itself."

When is the next Visual Quest?
VERY SOON! We will be re-opening registration in 2016 and have reshaped Visual Quest to be an on-demand self-study course – once you purchase you will automatically receive your login information and have lifetime access.
Who is this course for?
Visual Quest is for spiritual people who want to give form to what they feel inside and around them. It teaches you how to apply what you feel to the canvas.
It's also for creative people desiring to connect to the Spirit that lies inside of them and outside, enabling work with meaningful symbols, and a deeper connection to the artwork.
It's for artists wishing to freshen and deepen their practice, and for non-artists who would like to explore the mediums in a non-competitive and supportive environment.
It is for deep-thinkers and deep-feelers exploring their inner terrain and wanting to gain more clarity about the strongest archetypes within them, and the personal symbols which represent them.
The best part? There I was standing before my canvas with brush in hand ready to let out all of my spiritual artful expression of my journey. I loved how there was no right or wrong. I loved that this class was for both artists and not-yet artists. I loved the support and encouragement.
-Jan Veith
What will I learn?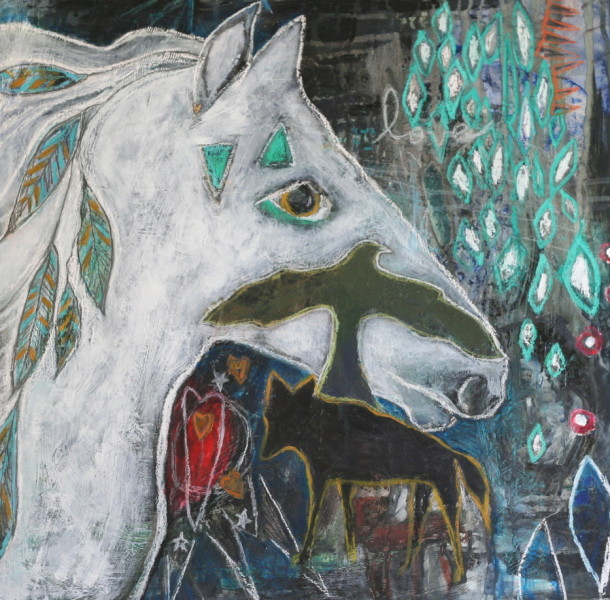 During the first week of Visual Quest you'll begin seeing with new eyes! You'll be initiated with tools and the basic ways of shamanism, so that you'll be comfortable calling on your guides and utilizing the tools throughout your painting intensive.
We'll cover the following topics during your Initiation Week:
*Healing the Creative Spirit and Becoming Strong for the Journey
*Gathering Sacred Tools, Preparing the Workspace, and Supplies
*PDF content to assist you on your quest and emphasize your magic and Sacred Voice
*Introduction to animal guides, medicine helpers, healers and guides
*Logistics and Tips For How to Be Successful at this Course
*Full review of the process and instructions on How to Take a Shamanic Journey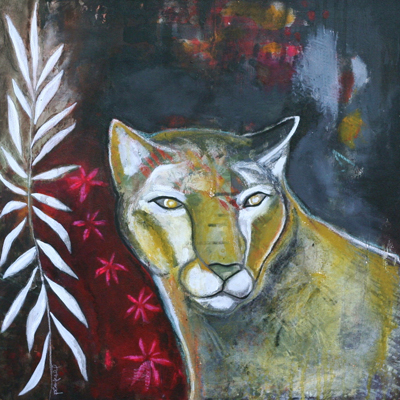 Then during Weeks 2-5, you'll begin your own Visual Quest with daily lessons in creativity/painting and integrative spiritual practice. Some topics we'll cover are:
*Journey for Creative Totem
*Weekly Journeys
*Palette: Selecting and Mixing Colors
*Mark-making
*Sketchbooks
*Trance Painting
*Integrative Painting
*Depth Work: What Keeps Wanting to Showing Up and Why?
*Unearthing the Images
*Visual Representation of the Inner Landscape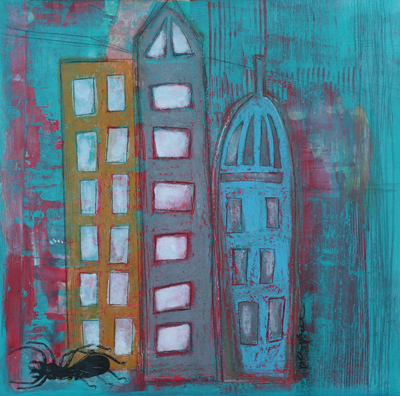 *Goldmining the Soul
*Painting the Spirits
*Application, application, application
*Pineal Gland and Auric Gifts
*Honoring Your Process, and Marking Rites of Passage with Celebration
*Supporting the Creative Body: YOU at Your Most Vibrant
*Restorative Painting
*Tips for Staying Creative, including The 15 Minute Artist
What's most intriguing about this process is that you're taking the trip down the rabbit-hole to find the treasure and messages within, gathering information from inside of you, about you, (which relates to what is universal in all of us), and bringing it into visual existence where it shapeshifts and teaches you at an even deeper level. I find that this process allows me to step aside and let the message of my work find it's own way.
What I loved most was becoming convinced that being an artist has nothing to do with academic training—but with being brave enough to jump into something and let go of results.
– Visual Quest Student

How does it work?
Visual Quest was created as a five-week course with video, audio and written content, journey meditations, journal prompts and many more inspiring bits and baubles. All the posts and exercises will be available to you immediately upon registration so you can follow the course at your own pace and continue to travel around the medicine wheel again and again.
The content will be delivered on a private password protected site. The videos are professionally shot and presented on Vimeo in HD. The audio recordings are also professionally captured. In other words, this course looks and sounds fantastic!
What do I need in order to best participate?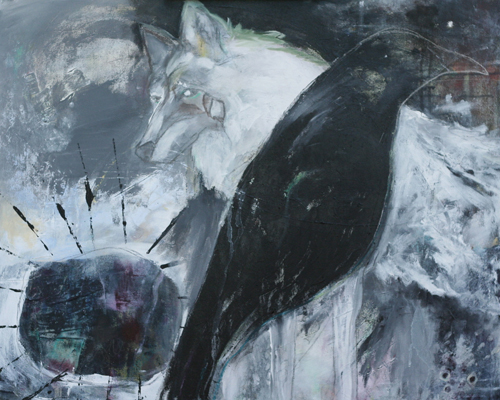 * A few basic supplies – there is an optional materials list provided here, however, you could make full use of this course with some paper and a set of watercolors if you really wanted to. During a previous session we had a Quester who created her paintings on recycled cereal boxes.
* Computer and a high speed internet connection so you can view our videos (if you can watch the promo above you should be fine!)
*We also have an optional reading list of books that might be helpful to you as you prepare for the journey
Before Visual Quest, I was someone who said "I'm not creative." Through this experience, I came to see myself as a creative being and I now recognize ALL of the aspects of my life where I do express it- my writing, home-making, journaling, photography, etc. By honoring my creative spirit, I've been able to allow new ideas to flow through me- not just with paint- but through writing, community building, volunteering. I would say that VQ reacquainted me with myself, and encouraged me to live a very full, expressive life.
- Allison Abramson
What is the fee?
The full fee for the self-study version of the course is $159. Please join our mailing list to be notified when we open the classroom.
*Payment plans will be available. 
Frequently asked questions & answers…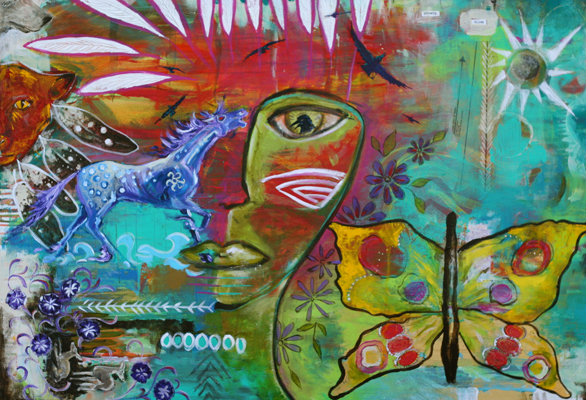 What is Shamanism?
*You can read more about this ancient healing practice here.
I'd like to know more about shamanic journeying?
*If you'd like to know how shamanic journey works, Pixie is offering her 7 Journey's class in December.
What is a Vision Quest?
*A vision quest is a traditional practice of being alone in a wild place (out on the mountain) for four days and four nights without food or water, in order to become present to the messages which Spirit would like for you to hear. Traditional people await signs and symbols, such as an unusual occurrence in the weather, a visit from a wild creature,  and visions or voices which would indicate one's path or purpose in life. One's own relationship to Spirit and place in the world is honored and affirmed in this indigenous ritual. It takes months of preparation to condition the body, mind and spirit to open up to the messages. In this course, will take this journey together.
As creatives, and many of us spiritual creatives at that, we benefit from going deep within and opening our hearts wide. The quest you're about to go on will take you into your relationship with the Source of Creation. It is personal and private for you, and it is your birthright to access to the messages.
A medicine person, or team of people, traditionally hold camp while the questers go out into the wild-eating, drinking, dancing, keeping the sacred fire going, and keeping you protected in your altar. Prayers and offerings are made, so that the guides and spirits will become present to you. This is my job, which I honor in the tradition that I was taught. Michelle and Jen tend the sacred fire with me as you receive the magic which is meant for you.
I don't know how to paint or journey? Can I participate?
*No experience whatsoever is required. To enjoy this class, simply be willing to see what is inside of you and make an attempt at interpreting it visually.
I live in Europe/Australia/SE Asia, etc? Can I participate?
*As the course is online, you can join from anywhere in the world so long as you have access to high-speed internet so you can watch the videos. If you can watch our promo video, you should be fine!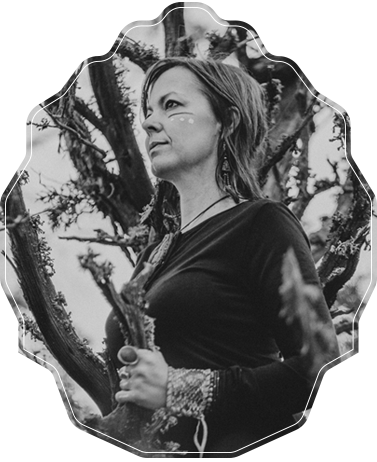 How long will I have access to the material?
*You will have access to all of this rich course content forever.
Will I have access to Pixie for questions?
*Not in any regular or official way.
Your Inspiring Guide
Pixie Lighthorse is an artist, writer and sacred-space holder. Her driving passions are the Earth and her creatures, plants and elements. This informs the work she does as a women's circle facilitator, project collaborator, artist, and art instructor. She is a Mystic concerned with transforming what surrounds us into wisdom. Read more about Pixie.
She's sold hundreds of pieces of artwork-many of which were created with an infant slung around her – hung in galleries nationwide, contributed to books on creativity, healthy living, money, and self-help, has been featured in magazines such as Somerset Studio, Somerset Life, Taproot, Mingle and Bamboo, led coast-to-coast workshops, and co-founded Matrilumina: Gatherings for Beacons & Luminaries, with Christine Mason Miller 2012-2013.
Learning to journey with power / totem animals and using the shamanic trance state to paint and allow Spirit to assist and come forward through the painting process was incredible. I LOVED this! 
- Arlene Holtz